Spring Events Going On Near Brookhaven – Minutes from Skyland Brookhaven
Looking for some fun Spring events near Brookhaven? Check out these great happenings and while you are in the area, stop by and tour the model home at Skyland Brookhaven. Love the opera?  Check out this offering at CinéBistro.  2017-2018 Metropolitan Opera Series Through April 28th with Bellini's Norma! Live from NYC in HD, watch various performances with us during the 2017-2018 season!
Mozart's Così Fan Tutte – March 31, 2018 at 12:55 pm EST with an encore April 4 at 1:00 pm EST – Expected Running Time – 4 hrs
A winning cast comes together for Phelim McDermott's clever vision of Mozart's comedy about the sexes, set in a carnival-esque, funhouse environment inspired by 1950s Coney Island. Manipulating the action are the Don Alfonso of Christopher Maltman and the Despina of Tony Award–winner Kelli O'Hara, with Amanda Majeski, Serena Malfi, Ben Bliss, and Adam Plachetka as the pairs of young lovers who test each other's.
View full schedule and purchase tickets
A true classic – The Atlanta Film Festival is one of the largest and longest-running film festivals in the country and draws an audience of more than 25,000 independent film enthusiasts, movie fans and filmmakers to Atlanta. 'Indies' and supporters have the opportunity to view more than 150 films over a seven-day period during the film festival – one of only two dozen Academy Award qualifiers for narrative short films. The Atlanta Film Festival showcases a variety of genres, among them documentaries, narratives, foreign films, experimental film, animation and local production. Date: April 13-22, 2018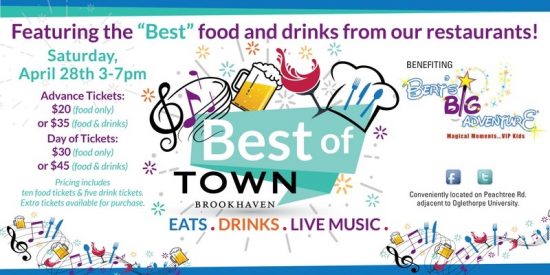 Who doesn't enjoy great food?  Join us for Best of Town Brookhaven on Saturday, April 28th from 3-7 pm! Featuring the "Best" food and drinks from our restaurants! Participating restaurants within Town Brookhaven will be serving up food and drinks that showcase what represents the very "Best on their menus! Live music too! Benefiting Bert's Big Adventure!